What better way to introduce some retro elements into your lifestyle:
Vintage Barware.
For a very low investment, you can acquire some pieces of history to help you entertain or just enjoy your favorite libation. This was my journey:
In the mid nineties when I was using this new 'World Wide Web' to connect some dots in my interest in musical styles, I came across "The Retro Cocktail Hour". This hour long internet presence from Kansas Public Radio hosted by Darrell Brogdon, is all about lounge music from the 40's and 50's. These songs were from the very same albums I had found in my dad's record collection over the years. After doing some research on the net, I discovered the connection between these sounds and the cocktail culture of the time. Coming from a 'dry' home that connection was never made before. My dad being a trumpet player throughout those times was just learning the 'standards' so he could go out and do gigs(called Casuals or GB's-for general business).
The next step in the progression for me was the discovery of this new web site called Ebay, that introduced me to the possibility of purchasing anything used. To my surprise there were plenty of opportunities to purchase period pieces that had survived the years. Cocktail shakers, stirrers, swizzle sticks, glassware, paper or cloth cocktail napkins, anything and everything. I soon discovered that some of the nicest barware and houseware for entertaining came from a company right here in Connecticut, The Chase Brass & Copper Co.
The Chase Co., as so many other metal manufacturers, found themselves in a challenging situation after the Wall Street Market Crash of 1929 and The Great Depression. They turned their attention to the American consumer with the introduction of 'chromium' household items(chorme-plated stainless steel, promoted as "non-tarnishing, no polishing needed"). Many famous Art Deco designers who were beginning to emerge since the 1925 Paris Exposition, found a home with Chase and other companies introducing luxurious looking items at very reasonable prices that budget conscious Americans demanded for their at-home entertaining needs. Superstar designers such as Russel Wright, Walter Vonnessen, Lurelle Guild, Jay Ackerman, Bel Geddes and Ruth & William Gerth added thier personal touches to bring modern design into American homes.
The party ended for Chase and other companies with the onset of World War II as they needed to retool for the war effort.
Today, one can find priceless gems for a couple of dollars to thousands of dollars depending on personal likes, condition and rarity.
To me, the idea of mixing a cocktail in a shaker that was designed and manufactured in the 30's, really makes the occasion extra special.
  Isn't that what life's all about... making each and every moment count?
Great reference books:
Stephen Visakay's, "Vintage Bar Ware". Collector Books ©1997
Being over 10 years old, the price guide is dated, but fantastic history and photos.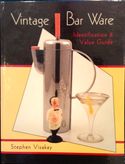 Jim Linz's, "Art Deco Chrome". Schiffer Publishing Ltd. ©1999
Again, dated price guide but beautiful. I haven't checked if there are newer versions.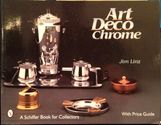 3 books that cover the Chase Brass & Copper Co. history and ads through the years:
"Art Deco Chrome Book 2"    Richard Kilbride. ©1992
"The Chse Era"    Johnson & Pina.© 2001
"Chase Catalogs 1934 and 1935"    Johnson & Pina.©1998

Nice coffee table addition:
"The Art of the Cocktail" Philip Collins. Chronical Books ©1992
This is a collection of 100 classic cocktail recipes with nicely shot presentation photos using vintage barware from Chase and others.