Susanne Langlois's continuing Novella Blog:
"Dial 'L' for Lounge".
 Chapter 7 -- Serge Trouserin--
---
The Master of Ceremonies tapped the microphone. The PA squealed. Some invisible sound tech wrestled the feedback and found the proper level. "Test Test Test". 
The MC was an imposing man, six four or five, dressed in expensive evening clothes --  a midnight blue cut  away tuxedo, Turkish style velvet slip-ons and a white rosebud in his lapel . His hair, which shone blue in the spotlight, was pomaded straight back. He had a lavish mustache, waxed into wide handlebars ending in impossible curlycues. He wore a fez. Tucked under the big man's arm was a small brindle dog with keen orange eyes. 
The house lights and the hubbub trailed off ... all but the high end laughter and the chucka, chucka, chucka, of stainless shakers filled with gin and ice drifted away. 
  "Welcome to the Modern Lounge all you lords and ladies ... all you cats and kittens." chanted the MC. "Serge Trouserin's the name ... gin and jazz's the game." 
  His voice was slow and dark as diesel as he caressed the mic and whispered intimately to the standing room only crowd. 
 "You've been waiting patiently for the main event, the headliner ... the piece de resistance. 
Your patience, lords and ladies is about to be richly rewarded ... 'cause Mr. Lounge is in the house." 
The crowd roared it's approval. Serge waited for the din to subside then continued, 
  "Mr. L. has brought us some 'new talent' ( air quotes ) recently 'recruited' ( air quotes ) "from topside." 
 The audience responded with the back bencher's cheer of  "here, here, here" and a generous round of applause. 
  "Mr Lounge, as always, is going to seduce us with his sultry sax ... tonight on stand up bass, that would be the 'doghouse' to all you hep cats ... Lords and ladies ... put your hands together for Mr. Trig Mixter.  On the drums," Serge Trouserin continued, "the one, the only Mr. Harleigh Holmes". 
Serge Trouserin snapped his fingers two and four, his velvet turned up toe tapped four on the floor.  
 "Without further ado and nothin' in your pockets ... I give you The Modern Lounge's favorite band ..... Mr. L and the 'Retro Rockets'."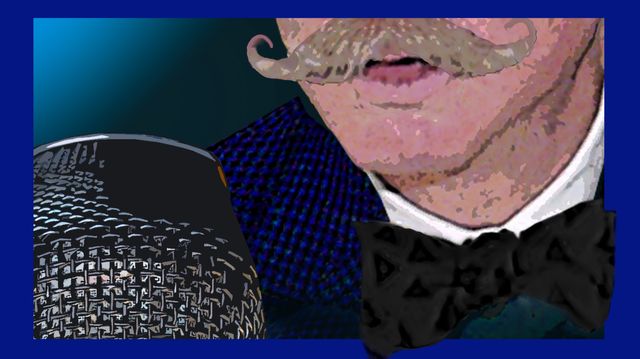 Dial 'L' for Lounge Chapter 7 Serge Trouserin